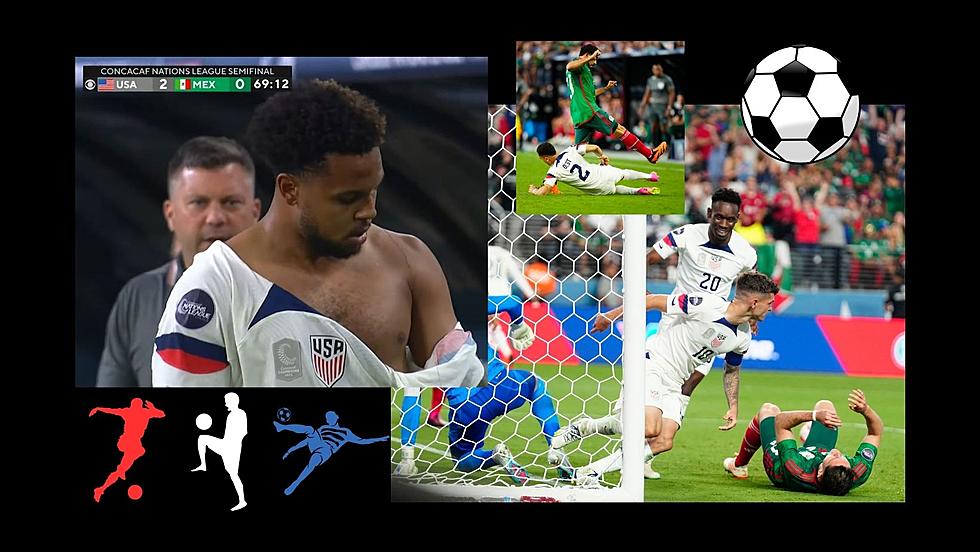 USA vs. Mexico Entertains Once Again- The Good, Bad, & Ugly
Credit: Getty Images / Canva
All I can say is, if you missed last nights CONCACAF Nations League Semifinal you missed one heck of a game. It had EVERYTHING.
The Good
First off, let's start with everything that was great about this match. The bitter rivals once again met with a trophy on the line, this time from Las Vegas, Nevada. The USA finally lived up to the hype our men's national team is capable of with a delightful display of controlled and measured soccer. That is until the game collapsed into insanity, but we'll get to that.
As always Captain America, the one and only Christian Pulisic, was at the center of almost everything we did right. He scored twice on the evening as the United States out shot Mexico 11 to 5, looking much more likely to pile on the goals as the game went on.
Pulisic scored to end the first half, and then immediately followed up half time with his second strike of the night. Our wing play was nothing short of phenomenal on the evening with Timothy Weah, and Pulisic running riot. Even better, after I screamed for it during the World Cup, Giovanni Reyna finally started as the pivot point of attack in the CAM position. The kids got moxie, technique, and acceleration to spare.
Another bright spot on the evening was the inclusion of the US squads latest member, Folarin Balogun. The US has been lacking an out and out striker, but boy have we found a good one. In fact, he's the guy the US just "stole" from England, where he currently stands as a member of the Arsenal squad; although he spent the last year on loan with Ligue 1 French side Stade Reims and manage to score 20 goals in topflight competition. What can I say? Guys a baller.
The evening of soccer ended with huge applause as substitute Ricado Pepi made it Tres a Cerro. Interesting fact, Pepi is another dual national player, who was eligible to play for both Mexico and the United States before deciding his national allegiance to the US in 2019, after participation on both nations U-17 team training camps.
The Bad
I love a heated rivalry as much as the next person, but sometimes things get a little too dirty even for me. It was a chippy affair to say the least, 4 straight red cards and 9 yellow cards. I'll just say this, when a game ends 9 vs 9 you can either blame the ref or the players, and in this case, it was definitely the players that lost their heads.
Here's what sucks so much about those reds. The United States will now be without starters Weston McKennie and Sergiño Dest, both players are integral in the success of our defense and attack. We really needed both of them on the field to compete fully with Canada in the finals this Sunday; again from Las Vegas.
It's one thing to be the losing team and lose ungracefully, it's another thing entirely to be in complete control of the game and still lose your head to emotion. It may even cost them a trophy come Sunday against Canada. Essentially, it felt as if Mexican players knew the game was over and were just trying to take as many of our stars out of the tourney with them as they could.
The Ugly
It doesn't matter what side of the aisle you sit on politically; racial slurs, homophobic slurs, any kind of abusive vitriol needs to be left out of the game. Let the players on the field compete it out with their abilities. The fact that the game had to be stopped in the 90th minute due to unsophisticated chanting is beyond me.
It was very obvious to see where the chanting was coming from too, as an entire section of Mexico fans was escorted from the arena before play continued. Again, I say, we can get chippy, we can even trash talk a bit. I get it, but overall, sexuality, race, and vulgarity has NOTHING to do with soccer. It's a game. A competition of athletic ability and skill. Let's keep it that way, PLEASE.
LOOK: 50 images of winning moments from sports history
Sometimes images are the best way to honor the figures we've lost. When tragedy swiftly reminds us that sports are far from the most consequential thing in life, we can still look back on an athlete's winning moment that felt larger than life, remaining grateful for their sacrifice on the court and bringing joy to millions.
Read on to explore the full collection of 50 images Stacker compiled showcasing various iconic winning moments in sports history. Covering achievements from a multitude of sports, these images represent stunning personal achievements, team championships, and athletic perseverance.
KEEP READING: Here are 50 of the most famous sports goofs